A new chapter has unfolded in the ongoing feud between FaZe Rain and the FaZe Clan. For context, Nordan Shat, popularly known as "FaZe Rain," claimed that the esports organization recruited Nicholas "Nickmercs" as "damage control" in 2018. He also claimed that FaZe Clan allegedly paid the Call of Duty veteran $1 million annually. In response, Nickmercs stated that the entire situation was "cringe" and that Nordan's narrative was "a little foolish."
On May 24, 2023, FaZe Rain responded to Nickmercs via a new YouTube video. In it, he claimed that founding members such as Rug, Jev, Teeqo, and others were not paid equally as Nicholas and accused the organization's corporate side of "mistreatment." He also claimed that newcomers "take away" from the "OGs" because they work for the money:
"That's what ends up taking away from the OGs is because these new people will comply for the check. They'll do whatever the corporate asks them because they're getting paid to! Other members, I won't name who they are, but when they found out, like, Nickmercs got paid what he got paid, it makes it look like I decide on that salary! I didn't want to give them money and I only want to give it to Nickmercks."
The Canadian continued further and said:
"This makes me look bad. It makes Apex look bad and Tommy looks bad. Because we get framed as the decision-makers. Right? We've been framed since 2018, as decision-makers. Everybody thinks we decide these things! Internally too! That's the craziest part!"
---
The drama between FaZe Clan and FaZe Rain continues as the latter responds to Nickmercs
The video titled FaZe Rain Responds to Nickmercs began with Nordan claiming that he didn't have all the information about the numbers and payout structure until he obtained a "book." He claimed to have asked the CEO and others to share figures, but they "never ever" did so:
"I didn't have all the info, like, for a fact until I got this book. Until I got this book, I didn't have 100% know all the numbers, because of course, that was withheld from me. With the CEO and all people want to give me numbers. I asked them all the time because I'm the numbers guy. And they would never ever share the numbers with me."
The 26-year-old seemingly confirmed Nickmercs' annual salary of $1 million. The founding members, however, were not paid a salary:
"Nick was getting a million dollars a year. But Rug, Jev, Teeqo, Alex, we're all getting money too. Yeah! Hell yeah! But it's, like, relative. Like, he's the only one that gets paid a salary. While none of them literally get anything. And they used that against us as leverage, right? Because they know Rug's now going to leave FaZe. They know Teeqo's not going to leave FaZe."
A few moments later, FaZe Rain stated that he went through the figures in the book and mentioned what he deduced:
"Anyway, so I was looking through the numbers, right? Every other talent than Nickmercs, at least gets a revenue for a face. Right? And, my issue is that, so many of these talent have been paid either MGs or salaries. MG is minimum guarantee, to where they give you brand deals and if they don't cover that amount in brand deals, then they'll pay you cash."
FaZe Rain then accused FaZe Clan's corporate side of mistreating the founding members, saying:
"These new corporate people came in, mistreated all the OGs. Like, 'Oh, thank you guys so much for your work. Now let's just start paying these people, right? And start doing deals with these people that try to bring in new talent."
Later in the video, FaZe Rain explained why he disagreed with the Los Angeles-based agency's decision to sign celebrities and popular internet stars:
"I'm just so against all the celebrity recruits or even just picking up big talent that have no mesh. I love Shroud. I think Tarik's great! But why? You know what I mean? We're not friends with them. You're better off picking up somebody with 10k subs, who I'm best friends with! I talk to them every single day. We all have amazing chemistry and we're going to kill it!"
---
Fans react to FaZe Rain's response to the debacle
As expected, Nordan's response to Nickmercs quickly gained traction. Here's what fans in the YouTube comments section had to say: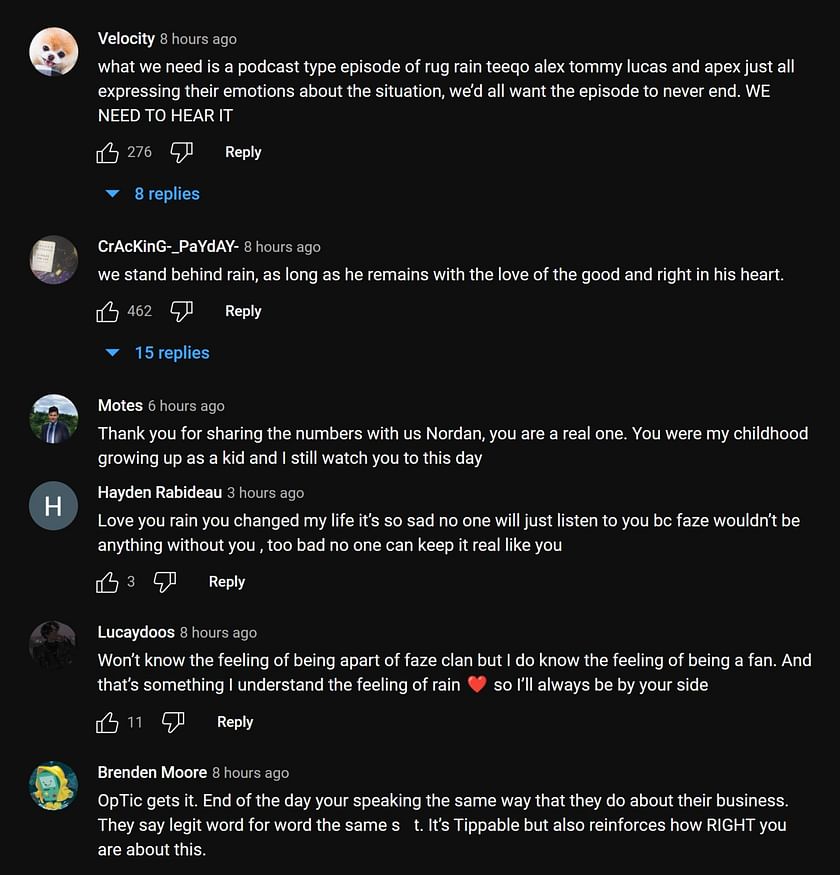 Several community members rallied in support of FaZe Rain. Meanwhile, one viewer proposed a podcast featuring the FaZe Clan's founding members "expressing their emotions" about the situation.