[ad_1]

Britain's Alfie Hewett has reflected on his "bittersweet" battle with doubles partner and fellow Brit Gordon Reid in the men's singles wheelchair US Open final.
Speaking on Sky Sports News, Hewett admitted that taking on his team-mate was "not easy" because of the close relationship formed in their doubles competitions.
"It was obviously a delight to win the singles and a bit bittersweet that I had to come up against my doubles partner, who, obviously, I know very well and was desperate to get his hands on a US Open Singles title," said the 25-year old who took his eighth Grand Slam singles title on Sunday.
"It's not easy – that's for sure.
"We've had a very open and honest doubles partnership where we have to lay everything on the table to be able to make the partnership work, and that includes getting to know each other personally.
Highlights of the US Open final between Gordon Reid and Alfie Hewett at Flushing Meadows in New York

"And coming against each other in a Slam final is a tricky one tactically, of course, but also personally – I know what he's had to go through this last couple of years with coming back from his injury.
"So, it was a tough one to be able to manage beforehand."
Britain's Alfie Hewett says it was the 'stuff of dreams' after beating his doubles partner Gordon Reid to win his eighth Grand Slam title

Hewett and Reid, who have won 18 doubles Grand Slam titles, had clashed twice before on the big stage during the Paralympics, but this was the first time they'd faced off in a Grand Slam.
"We're a doubles partnership but we're also single players and we've played some pretty big finals and matches against each other in the past with the Rio gold medal match and the Tokyo bronze medal match, so we're familiar with that sort of dynamic," said Hewett.
Alfie Hewett says he's full of pride after winning his eighth Grand Slam title at the US Open in New York

"It can happen and it can happen on the biggest stage – we both have our singles teams that we go to, so whenever that happens, we get into our zones and focus on what we need to do to get the win."
Goals for the future: 'I don't plan on stopping any time soon'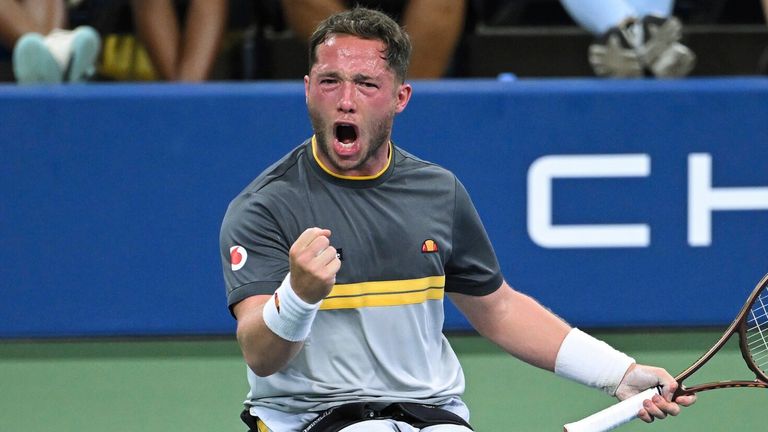 At 25, Hewett remarkably only has two major tennis titles left to collect, but they are arguably the biggest.
When asked about 2024 being the year that he finally wins Wimbledon and the Paralympics, Hewett told Sky Sports that he was "hungrier and more determined" following defeat at SW19 earlier this year.
"My targets this year were Australia and Wimbledon – I achieved one of them and came very close to the other one," said Hewett.
Seven-time Grand Slam winner Alfie Hewett coaches Sky Sports' Emma Paton the basics to wheelchair tennis as he prepares to defend his US Open title

"I feel like I'm just off the back of Wimbledon, so I'm putting it aside because it wasn't the way I wanted it to go, but it makes you hungrier and more determined for when it comes round the next time.
"But the Paralympics only comes around every four years, Paris will be exciting and it's not something that I have achieved yet but I'm not going to put pressure on myself because when it comes around every four years, you have to be okay with maybe not going your way.
"But I believe in myself and I'm sure I'll do everything I can to prepare.
"But it's exciting that I've only got two accolades left to collect – there's not many wheelchair tennis players in the men's division that can say that, so I have to see the good side that I've got to that position in my career at 25 years old already.
"I don't plan on stopping any time soon, so I'm sure those titles one day will be achieved, so I'm not trying to put the pressure on myself."
Watch highlights of Alfie Hewett's victory again Gordon Reid on the Sky Sports website and app.
[ad_2]

Source link