Tottenham's chances of finishing in the top four dropped to 19 per cent when Michael Keane smashed in a last-gasp equaliser to earn Everton a 1-1 draw against Spurs.
Before the Monday Night Football clash at Goodison Park, Spurs had a 29 per cent chance of a top-four finish, a slight increase compared to the previous week after Liverpool, Fulham, Manchester United, Brighton and Brentford all dropped points over the weekend.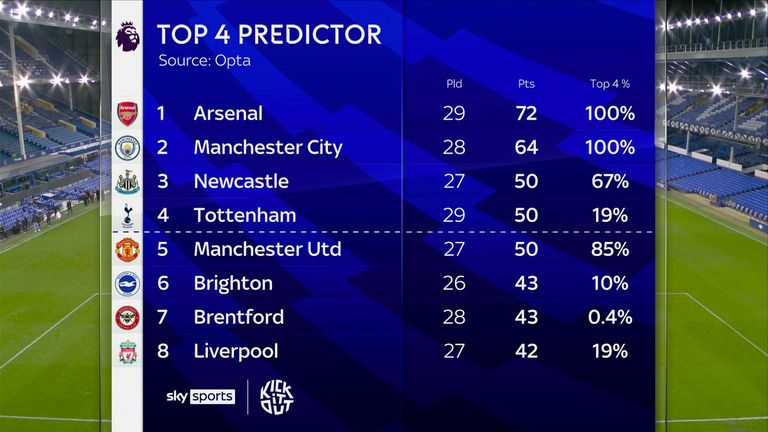 But Keane's late equaliser for Everton diminished Spurs' chances by 10 per cent, according to Opta, leaving Cristian Stellini's side as outsiders in the race to secure a seat at next season's Champions League.
Spurs were handed a second-half advantage on Merseyside when Abdoulaye Doucoure was sent off for violent conduct after a push on Harry Kane's face – seven minutes before the Spurs striker scored from the penalty spot after Keane fouled Cristian Romero in the box.
But Tottenham allowed Everton to attack in the final 15 minutes of the game, with Lucas Moura's red card for a dangerous tackle on Keane coming moments before the Everton defender's shock equaliser.
What is the prediction model based on?
The prediction model estimates the probability of each match outcome (win, draw or loss) by using betting market odds and Stats Perform's team rankings. The odds and rankings are based on historical and recent team performances.
The model considers the strength of opponents by using these match outcome probabilities and simulates the remaining fixtures in the competition thousands of times.
By analysing the outcome of each of these simulations, the model can see how often teams finished in each league position to create our final predictions.
While the point lifted Tottenham into fourth position, Newcastle and Manchester United – who are level with Spurs on 50 points – both have two games in hand over Stellini's side. Brighton, who lie in sixth, have three in hand over Tottenham.
Speaking to Sky Sports after the draw at Everton, Spurs interim head coach Stellini said of his side's top-four chances: "It will be a tough race.
"One year ago, we had 51 points, we were fifth and today we are fourth with the same points as Man Utd and Newcastle.
"We are in same position as last season. We have to be ready to fight and now we think about the next game."
FREE TO WATCH: Highlights from Everton's draw against Tottenham in the Premier League

What the pundits say
Sky Sports' Jamie Carragher on Monday Night Football:
"I've said this for a long while about Newcastle finishing in the top four, they're just playing a lot better than Liverpool and Tottenham.
"You shouldn't write off Brighton either by the way. Brighton are still probably playing better than Liverpool or Tottenham.
"I think Manchester United will be fine but Newcastle are just on a different level at the moment to Tottenham and Liverpool."
April 8: Brighton (H) – Premier League, kick-off 3pm
April 15: Bournemouth (H) – Premier League, kick-off 3pm
April 23: Newcastle (A) – Premier League, kick-off 2pm, live on Sky Sports
April 27: Man Utd (H) – Premier League, kick-off 8.15pm
April 30: Liverpool (A) – Premier League, kick-off 4.30pm, live on Sky Sports
May 6: Crystal Palace (H) – Premier League, kick-off 3pm
May 13: Aston Villa (A) – Premier League, kick-off 3pm
May 20: Brentford (H) – Premier League, kick-off 3pm
May 28: Leeds (A) – Premier League, kick off 3pm
Spurs' battle for top four – current Premier League standings