[ad_1]

During the press conference following UFC Vegas 73, UFC president Dana White was asked to clear the air regarding the uncertainty about the upcoming title fight between bantamweight champion Aljamain Sterling and Sean O'Malley. What ensued was a lighthearted exchange and an on-the-spot prize money offer for the journalists to guess the answer to White's question.
White was asked about the status of the Sterling vs. O'Malley clash that has been officially announced. The UFC president continued by revealing that he had received a phone call from a certain UFC fighter informing him that Sterling would be pulling out of the bout.
White then challenged the assembled press to guess the name of the fighter in three tries, with a $100 reward for the correct guesser. Journalist Amy Kaplan guessed correctly on her first try by naming Henry Cejudo. The UFC president stood up and handed Kaplan a hundred dollars right away, keeping up with his promise.
The fun exchange sparked a conversation under a Reddit thread, with several fans posting hilarious takes on Dana White's reward. One fan wrote:
"That's early prelims money."
Another fan wrote:
"Man just has a roll of hundreds in this pocket in a ball lol. I wonder what it's like to be that wealthy."
Yet another fan wrote:
"Damn he paid that reporter more than powerslap "athletes"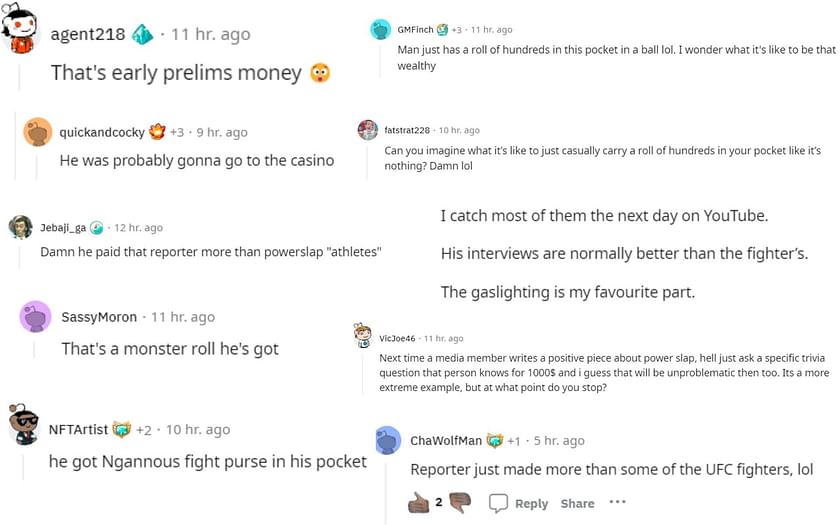 ---
Dana White objects to Aljamain Sterling's assertions that the UFC president is not giving him proper credit
At the UFC Vegas 73 post-fight press conference, Dana White was asked about Sterling's recent comments implying that his ability to participate at UFC 292 against Sean O'Malley hinges on his physique and conditioning. Dana White delivered a strong reaction which did not go down well with Sterling.
Sterling has seemingly accepted the fight against O'Malley, but he reiterated that he was still coping with injuries from his bout with Henry Cejudo at UFC 288 and needed to see how his body responded to the quick turnaround.
Dana White's harsh remarks about 'Funk Master' elicited a sharp rebuke from Sterling, who pondered aloud on his podcast The Weekly Scraps why he couldn't earn White's respect.
In an interview with FanSided, White responded to Sterling, denying that he had overlooked the UFC bantamweight champion and restated his stance from Saturday's press conference:
"That was a Saturday afternoon, I was home working out, minding my own business when my phone starts blowing up and Henry Cejudo is calling me, saying, 'I'll take the fight. I'll take the fight,'" White said. "I'm like, 'Why? Is Aljo out?' He's like, 'Yeah, he's already making excuses, saying if his body holds up and this other stuff.' Then I walk into the press conference and one of the first questions that asked to me is, 'Is Aljamain still fighting? How am I not giving him credit? Ridiculous."


[ad_2]

Source link