Jamie Carragher says Tottenham might as well have kept Antonio Conte in charge after appointing Cristian Stellini on an interim basis until the end of the season.
​​​​​Everton defender Michael Keane's stunning 90th-minute equaliser atoned for his error in conceding Tottenham's penalty opener in a fractious 1-1 draw at Goodison Park in which both sides had a man sent off.
Harry Kane's spot kick looked set to give Spurs post-Antonio Conte a victory but it was the England captain's involvement in the sending-off of Abdoulaye Doucoure which prompted most discussion – until Keane's 30-yard screamer.
Spurs conceded a late stoppage-time equaliser to Southampton in their previous Premier League game – Conte's last in charge – and having witnessed Spurs throw away another two points away from home under caretaker manager Stellini, Carragher feels they should have had a clean break by removing Conte and his coaching staff.
FREE TO WATCH: Highlights from Everton's draw against Tottenham

Carragher told Sky Sports: "I think it is strange to leave Stellini in there. I don't understand that, you sack a manager and you leave his assistant in there, who is going to stick to all the same principles.
"It is Conte-lite, you may as well have left Antonio Conte in there if everything is going to be exactly the same.
"I don't think they are going to change him now unless they get a manager who they think is going to be the manager for the next two or three seasons if that becomes available.
"If maybe they could get Nagelsmann before the end of the season, of course you'd do it and let him bed in before next season.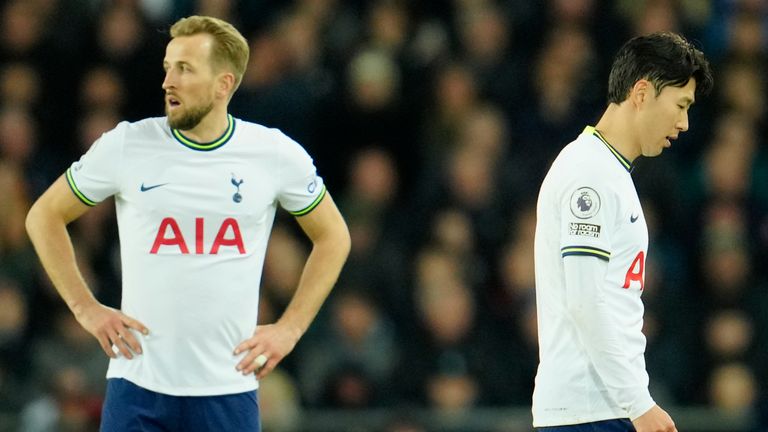 "Tottenham weren't getting rid of Antonio Conte until he did that press conference. You should always be prepared.
"Fabio Paratici, the sporting director, did an interview would you believe on the back of Conte going, saying: 'This is the right thing to do [keeping Stellini], we don't want mixed messages, we don't want something completely different for the players, they might not be able to take it in at this stage'.
"And when you talk about the mistakes of Daniel Levy – and we defended him, I would say, in that first hour – the biggest mistake is what's happened with Paratici [now he's suspended].
"It's a mess and you have to level that at Daniel Levy's door.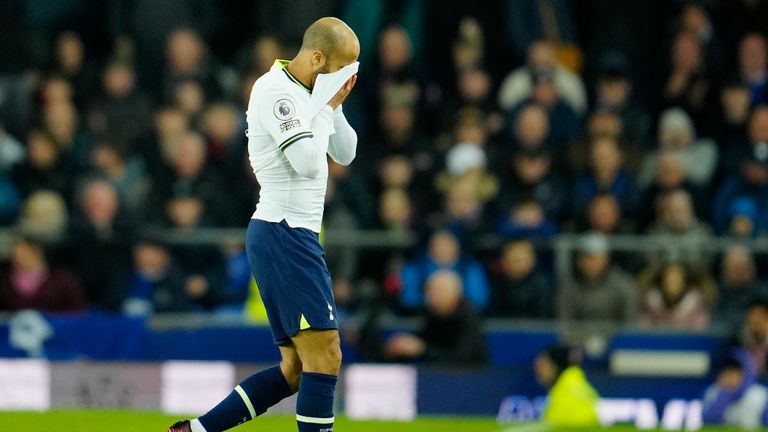 It's a mess at Tottenham and you have to level that at Daniel Levy's door.
"The level of manager that they want, they've obviously spoken to Nagelsmann he is not ready to come, he may want to go to Chelsea or he may want to wait until the end of the season.
"It is not an easy position that they find themselves in right now."
Everton's desire, with top-flight survival at stake, appeared greater than Tottenham's to secure Champions League football next season but that was taken too far just before the hour when Doucoure lost his head in his confrontation with Kane – whose reaction Carragher described as "embarrassing".
Worse was to follow with Keane's mistimed tackle but from then it was the 10-man hosts who looked the more likely to score as Spurs, criticised by Conte a couple of weeks ago for lacking character, retreated into their shell.
But they not only lost ground but their discipline and, after Idrissa Gueye forced Hugo Lloris to tip over a shot before Lucas Moura's red card gave Everton a glimmer of hope and Keane seized it in dramatic fashion as Kane departed to a chorus of boos.
"They were OK – nothing spectacular," Gary Neville told Sky Sports. "They've been a bit dour to watch for quite a long time.
"The spark isn't there with Son, Kulusevski and Kane as we've seen in previous seasons.
Jamie Carragher and Gary Neville were in disagreement over whether Harry Kane and Abdoulaye Doucoure's altercation was enough for the England striker to go down during their 1-1 draw at Goodison Park

"Something is missing. The quality isn't there in the midfield. Hojbjerg and Skipp are workmanlike and do a good job but they don't deliver good passes forward and they don't link the play as well as players in top teams do.
"I don't think the wing-backs are of the necessary quality to play in this sort of system. There are a lot of expectations in those roles both offensively and defensively and I don't think Spurs have the best wing-backs and defensively they just look a bit drained.
"The big point Stellini made in his interview was that when they went 1-0 up they really should've seen the game out.
"The game management wasn't good enough."
Neville: Levy doesn't help himself
Jamie Carragher believes it's the manager and not the owner that changes the culture of a club and feels Antonio Conte shouldn't have joined Tottenham

The visitors began like they had a plan under Stellini's caretaker charge before familiar failings reappeared on Merseyside.
Having witnessed Spurs surrender another two points in their quest to qualify for next season's Champions League, Neville added: "I don't think Daniel Levy really helps himself at all as he's left in charge Antonio Conte's No 2.
"The suggestion is that's been done as he doesn't want to invest money in a new manager between now and the end of the season.
Everton defender Michael Keane reflects on his stunning late equaliser for the Toffees as they drew 1-1 at Goodison Park against Tottenham

"The management team that Spurs will want – like a Jose [Mourinho], [Antonio] Conte, or a [Julian] Nagelsmann, you're talking probably £10m to £15m for the manager and his staff will cost up to £6m.
"There's three or four months until the end of the season so they might be thinking of saving that money, keep him in until the end of season.
"They might not have got the manager they wanted, but I don't think Daniel Levy helps himself by leaving the No 2 in charge of the manager you've sacked.
Everton manager Sean Dyche praised his side as they fought back from 1-0 down and with 10-men as the Toffees conjured up an equaliser through a brilliant Michael Keane goal

"If you've got a sporting director, which Spurs have, and they've got a lot of experience, you've got to be mobile and agile enough to deal with it.
"If you're looking for a change in direction in the last 10 games, you don't leave the sacked manager's No 2 in. The voice they'll be hearing now until the end of the season is the same voice they've been hearing under Conte.
"I'm not sure it looks a happy place there at this moment in time."
Stellini criticises Tottenham for failing to hold on
Cristian Stellini spoke on Tottenham's disappointing result at Goodison Park as they conceded late on against Everton to draw 1-1

Interim boss Stellini accused his Tottenham players of being unable to stick to a plan having needlessly invited pressure on to themselves.
The Italian said his side had to do "much better" when playing with an extra man.
Stellini said: "This is the way we play the game with an extra man – you have to do much better," he said. "It's about intention to keep the ball, to wait to find the right moment to score.
"We had some chances but we didn't find the way to score. It's OK, but also you need players ready to move and to respect the plan. The plan was clear in my idea, and with one extra player we can do it better than this, absolutely.
"We did well for all the game, but 11 players you have to control the game with the ball.
"We have to do it 11 against 11 but when you have a team like this in their stadium it's never easy. With 11 against 10 it has to be easier than this."