Jackson Gaming is a popular Indian Free Fire YouTuber who uploads short-based content related to the battle royale title. His funny and engaging content has helped him establish considerable numbers on his YouTube channel. Presently, his subscriber count stands at 3.29 million, whereas his total view count on his videos is over 310 million.
Aside from his primary channel, he operates a second channel on the platform called "Technical Jackson." Also, over 1.8 thousand people follow Jackson Gaming on his Instagram handle.
Disclaimer: Free Fire is banned in India, and players in the country must not play the battle royale title. However, since the MAX variant of the game wasn't prohibited, they may engage in the same.
---
Jackson Gaming's Free Fire ID, guild, rank, and stats
Jackson Gaming's Free Fire ID is 1966165906. He is the leader of the "Jackson★Army" Guild, whose Guild ID is 66527710.
Inside the ongoing BR-Ranked Season 33, the content creator is ranked Heroic, while his rank in CS-Ranked Season 18 is Master. Details about his stats are provided below:
BR Career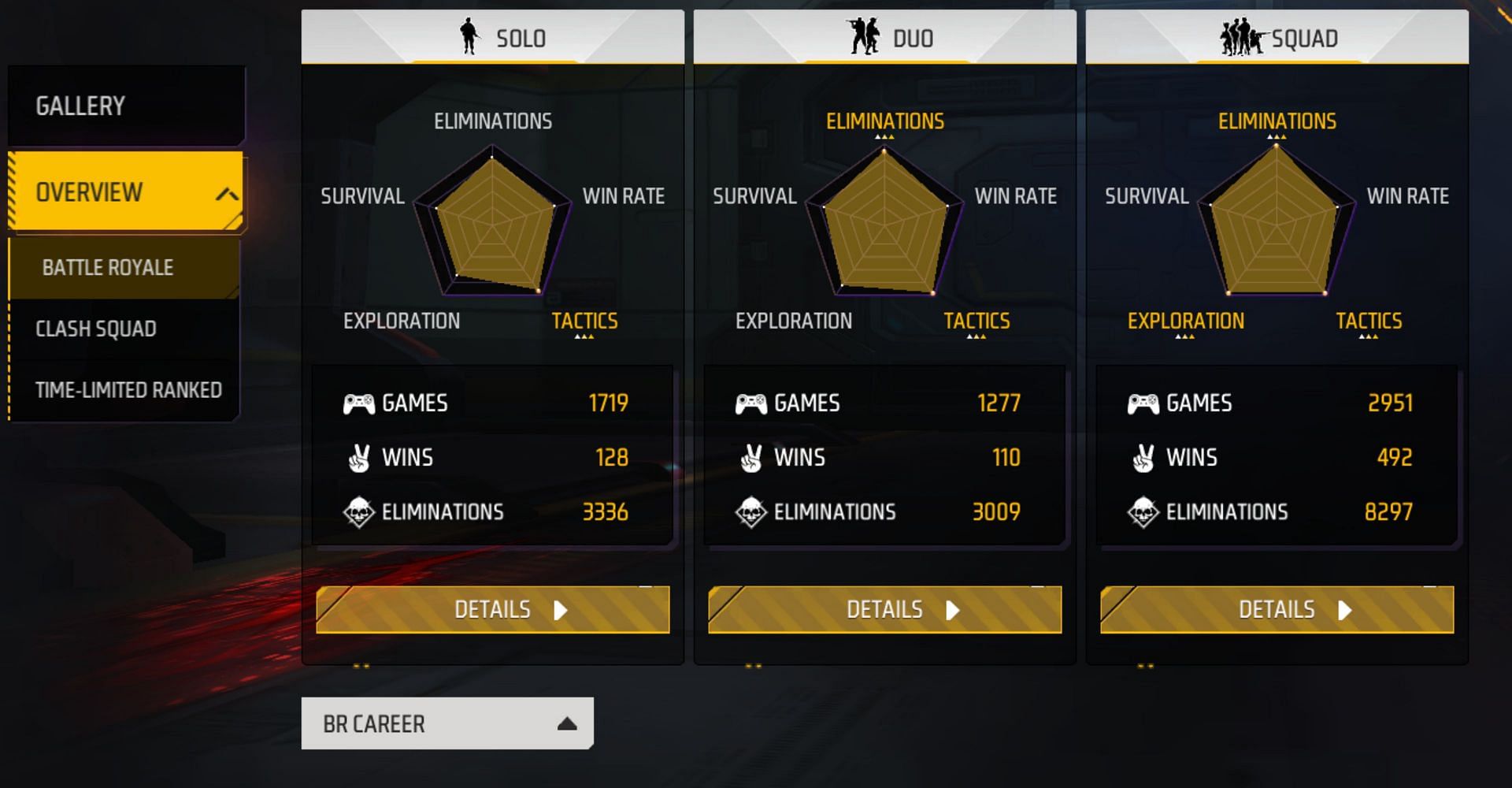 Jackson Gaming has appeared in 1719 solo matches and has secured wins in 128, making his win rate 7.44%. He has 3336 eliminations in the mode for a K/D ratio of 2.10.
Within the duo mode, the player has engaged in 1277 games and has 110 Booyahs, leading to a win rate of 8.61%. With 3009 frags, he has a K/D ratio of 2.58.
The YouTuber has also participated in 2951 squad matches, and his team has 492 victories, converting to a win rate of 16.67%. He has accumulated 8297 kills, maintaining a K/D ratio of 3.37.
BR Ranked
Looking at the current BR-Ranked Season 33, Jackson Gaming has played a single duo match but has failed to win. There are four kills to his name for a K/D ratio of 4.00.
Lastly, the content creator has featured in 28 squad matches and has 14 wins, giving way to a win rate of 50.00%. He has registered 165 eliminations, upholding a K/D ratio of 11.79.
Note: Jackson Gaming's Free Fire stats were recorded when writing this article (May 24, 2023). The stats above may change as he plays more games in the different modes.
---
Jackson Gaming's YouTube earnings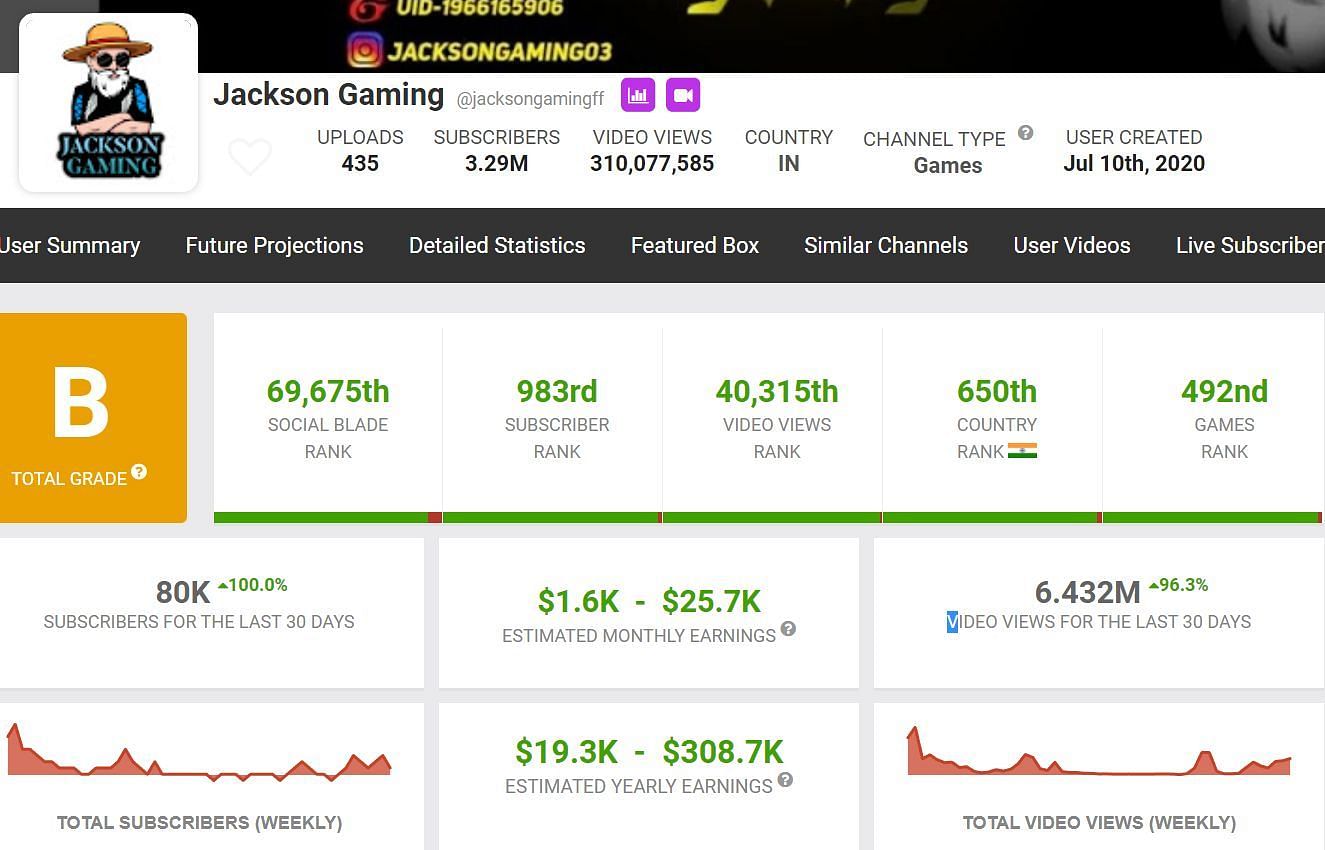 Jackson Gaming's estimated monthly income from his YouTube channel is between $1.6K and $25.7K. Meanwhile, his projected yearly earnings through the same range from $19.3K to $308.7K. (Source: Social Blade)
---
YouTube channel
Jackson Gaming has created content on YouTube related to Free Fire for the past couple of years. His earlier video is from December 2020, and there are currently 435 uploads to his name. Out of the total uploads, the highest-viewed one is a YouTube Short with 19 million views.
According to Social Blade, Jackson Gaming has received 80 thousand subscribers in the last 30 days. At the same time, his total view count has grown by 6.432 million in the same period.
Check out the latest Free Fire MAX redeem codes here.