Indian opener Shubman Gill opened up on playing Pakistan for the first time in his international career and called it different from anything he had experienced.
India faced off against the Men in Green in their 2023 Asia Cup opener last week, which was eventually washed out due to rain after the culmination of the first innings.
Despite the no result, Gill faced the high intensity, emotions, and adrenaline rush of an India-Pakistan clash as he opened the batting.
However, the occasion seemed to have gotten the better of the 24-year-old as he scored a painstaking ten off 32 deliveries.
At the press conference before India's next meeting against Pakistan in the Super Four stage, Gill said that he felt playing their arch-rivals before the upcoming ODI World Cup could be a blessing in disguise.
"Playing Pakistan was different. It was my first game and there was extra pressure. But at the World Cup every game is a pressure and to get used to that here against Pakistan helps us," said Gill.
Despite the failure against Pakistan and his recent inconsistencies, Gill has made a sensational start to his ODI career. In Team India's previous outing against Nepal, the elegant batter became the fastest to 1,500 ODI runs, with an average of 64.08 and a strike rate of over 102.
---
"Since we are different type, it can get difficult for opposition" – Shubman Gill on batting with Rohit Sharma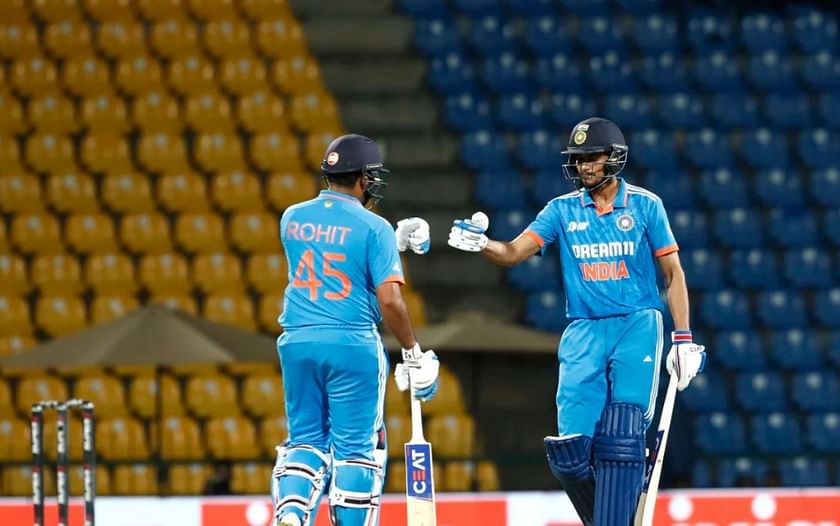 Shubman Gill spoke highly of Indian skipper Rohit Sharma and their opening partnership by pointing to the contrasting batting styles as the reason for their success. The duo stitched their third 140+ opening stand in Team India's previous outing against Nepal, leading them to an easy 10-wicket win to book their berth in the Super Four.
Gill and Rohit have also crossed 50 on seven occasions as an opening partnership in just 10 ODIs at an average of over 80, including 143 and 212 against Sri Lanka and New Zealand, respectively, earlier this year.
"He is someone who likes to take on the bowlers. I like to play more shots on the ground and we compliment each other. Since we are different type, it can get difficult for opposition," said Gill.
The 24-year-old also pushed back on the idea that there is a lack of role clarity within the Indian batting lineup. He stated that each batter is well aware of their positions and expectations.
"There is no confusion on role clarity. We understand it well and know the situations as well. We know which position we will be batting and we are preparing accordingly," added Gill.
With the return of KL Rahul for their Super Fours opener against Pakistan, Team India could be faced with a selection debacle of their middle order. While Shreyas Iyer and Rahul nailed the No. 4 and No. 5 positions before their injuries, Ishan Kishan scored a brilliant 82 at No. 5 in the first Pakistan game.
The second India-Pakistan battle of the Asia Cup will get underway in Colombo on Sunday, September 10.