A few posts have been floating on social media with claims that toll booths were built inside Disney World in August 2023. The article was first posted by a website, called Mouse Trap News, which stated that Disney World has planted these toll booths to make more money, and also to control the crowd. The article stated:
"Disney World is following this model and installing toll booths inside their theme parks. This is a way to generate additional revenue from the guests inside their parks. How it will work is Disney World install toll booths at the entrances to many different areas of their theme parks. It will cost each guest $5 to go through a toll booth."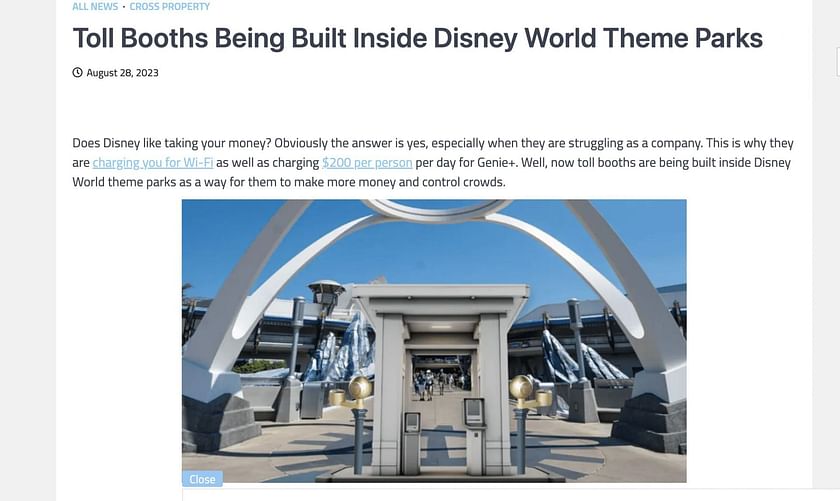 Furthermore, the article also stated how when one enters the theme park, they would have to scan their MagicBand and make the payment through their My Disney Experience App. The Mouse Trap News article also stated how it is making the parkgoers infuriated and unhappy, as they have to spend extra dollars now.
However, neither Disney nor any parkgoer has made any announcement or post regarding this new addition of the toll booths in the park. Had this been a true instance, many people would have posted pictures and videos of the same.
At the same time, upon going through the website that shared the news, it can be seen how they have shared a lot of fake articles about Disney and Disney World. In fact, the website is just a parody website, and they claim that nothing posted on it is true.
Hence, the news about Disney World building toll booths around the park is also fake, and not true.
---
Disney World is not building toll booths: Fake news being reported and spread by a satire site
News related to Disney and Disney World blows up on the internet in no time. Something similar happened when Mouse Trap News uploaded a fake article about the park installing toll booths at every nook and corner of the park. However, the news has been debunked as it is a fake piece of information being spread by a "satire site."
The "About" section of the Mouse Trap News reads:
"Mouse Trap News is the world's best satire site. We write fake stories about Disney Parks stuff. From Disney Park announcements to Disney Hotel and resort news to made-up Disney partnerships, you can be assured that anything you read here is not true, real, or accurate, but it is fun. Mouse Trap News was created on a whim to have some fun and write stories about Disney we wish were true."
However, this is not the only article that the website has shared. From all the restaurants being free for the park goers to the banning proposals in the theme park to even writing articles about Disney's tickets being sold for free, the website shares all sorts of satirical articles about the park. However, none of them are anywhere close to being true.
Hence, it is advisable that one should always cross-check the facts before sharing such pieces to avoid the spread of misinformation, and fake news.