Sky Sports' Gary Neville and Jamie Carragher clashed over Harry Kane's role in Abdoulaye Doucoure's dismissal during Tottenham's 1-1 draw at Everton.
Kane dropped to the floor after being pushed in the face by Doucoure, who was shown a red card by referee David Coote in the 58th minute.
But the England captain has drawn criticism for his reaction to the contact from the Everton midfielder, which led to a heated debate between Neville and Carragher in the Monday Night Football studio afterwards.
Doucoure loses all composure and is shown a red card for raising his hand to Kane

Neville told Sky Sports: "We're all in agreement that Doucoure puts his hand up, everybody's said that ultimately you can't do this and he should be sent off.
"I suppose the only debate that we're having is whether Harry Kane should go down."
Then, in an amusing demonstration with Carragher, Neville said: "Jamie said it was a hand in the face and that Harry Kane should never go to ground.
"I said to Carra that the only thing I've had before is when someone puts a clasp, if you like the claw, and it goes a little bit in your eyes, it does shock you.
"I'm not saying Harry Kane should go down, but that one there [a clawed hand to the face] does throw you back. That is very different than a hand in the face."
Carragher then responded: "The debate is not about a red card, Harry Kane should not be going down for that. It can still be a red card by putting your hand in someone's face, Doucoure is wrong and I'm sure Sean Dyche will tell him that, but I wouldn't go down there as a player.
FREE TO WATCH: Highlights from Everton's draw against Tottenham in the Premier League

"I don't think there's nowhere near enough to let you go down, and, again, if I'd done that on a pitch I'd be embarrassed.
"If I watched my own son, who is a player, if I saw him do that – yes, it might help his team win, the opposition are down to 10 men, it gives them an advantage – but when we get back in the car I'd just say, 'What were you doing there? Don't ever do that again on a football pitch'.
"I've got no problem with people diving or trying to win a penalty. The thing I really don't like is players trying to get fellow professionals booked or sent off. I've got no problem with someone going down, winning a free-kick, jumping back up and getting on their feet."
Neville replied: "I feel like you're rewriting history here. You were a horrible defender who used every single dark art that was available, you appealed for every decision more than anybody else that ever played, and if your strikers went down you'd wanted them sent off.
"Now you're talking as a pundit with a suit on."
Kane puts the visitors in front from the penalty spot, after a clumsy challenge from Michael Keane

Neville added: "On a serious note, as a player, if we're going in our dressing rooms we're going, 'Harry, well done, you got him sent off'.
"I'm a lot nicer than I was 15 years ago. If Harry Kane stands up there, we are talking about winning Champions League football or staying in the Premier League with relegation, if he stands up there that might have been a yellow card because it is deemed as being just a little hand-off.
"Harry Kane's gone down, whether he should have or not, it's to make sure that Doucoure does get sent off.
"It's a part of the game people don't like but in our dressing room, if our forward [does that] we are there to win leagues, win games.
"People might call it cheating but you can't put your hand in someone's eye with a clasp like that.
"I've never done it but I'm giving Harry the benefit of the doubt, maybe because I know him.
"He does dive, he does go to ground and he's clever but when those nails go in your eye, honestly that can shock you."
Having fallen behind to a penalty converted by Kane, Sean Dyche's side managed to grab a vital point in their fight against relegation through Michael Keane's long-range strike.
Everton manager Sean Dyche praised his side after they fought back from 1-0 down with 10 men

Dyche had no complaints with Doucoure's sending off, admitting: "You can't lay hands on an opponent. We know that."
But the Everton boss added: "The only disappointment is that I couldn't understand why Harry went into the initial challenge because the ref had already blown his whistle."
Kane was booked for his part in the fracas.
The incident in pictures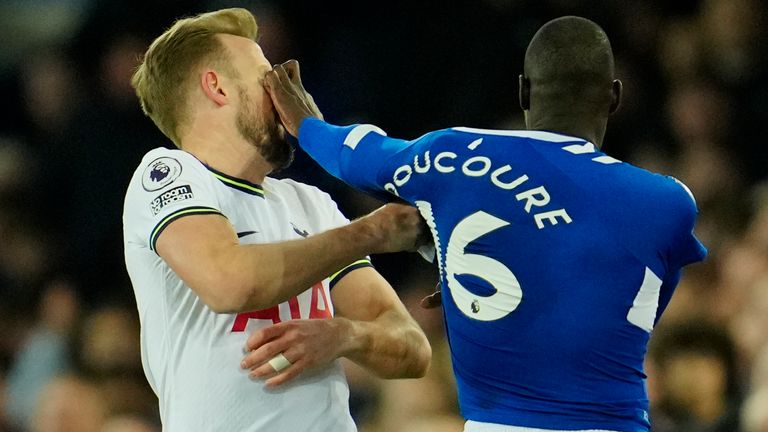 In their previous Premier League match, Tottenham threw away a two-goal lead at bottom-club Southampton, triggering an extraordinary outburst from Antonio Conte that in turn resulted in his dismissal.
And, after witnessing Spurs surrender another two points away under caretaker manager Stellini, Carragher argued the north Londoners should have had a clean break by removing Conte and his coaching staff.
Carragher says Tottenham are a mess with their managerial situation and Fabio Paratici's suspension

Carragher told Sky Sports: "I think it is strange to leave Stellini in there. I don't understand that, you sack a manager and you leave his assistant in there, who is going to stick to all the same principles.
"It is Conte-lite, you may as well have left Antonio Conte in there if everything is going to be exactly the same.
"Fabio Paratici, the sporting director, did an interview would you believe on the back of Conte going, saying: 'This is the right thing to do [keeping Stellini], we don't want mixed messages, we don't want something completely different for the players, they might not be able to take it in at this stage'.
"And when you talk about the mistakes of Daniel Levy… the biggest mistake is what's happened with Paratici [now he's suspended].
"It's a mess and you have to level that at Daniel Levy's door."
Neville added: "They were OK – nothing spectacular. They've been a bit dour to watch for quite a long time.
"The spark isn't there with Son, Kulusevski and Kane as we've seen in previous seasons."