Gary Neville has defended Wout Weghorst amid growing criticism surrounding Manchester United boss Erik ten Hag's persistence in starting with the forward, and revealed he would select the Dutchman over former club icon Cristiano Ronaldo for away games.
The January signing made only 10 touches before being hooked off in the 62nd minute during the 2-0 defeat at Newcastle on Sunday and has scored only two goals in 19 starts for the club across all competitions.
FREE TO WATCH: Highlights of Newcastle against Manchester United in the Premier League

"A lot of people have asked [why Ten Hag keeps starting Weghorst] over the past 24 hours, [saying] this experiment has to stop and Weghorst has to come out of the team – this can no longer go on," said Neville on Monday Night Football.
"We've watched Weghorst – it feels like he's played every game – he probably has under Erik ten Hag since he came to the club.
"I called him a placeholder [after the Newcastle game], in terms of what he's doing and the fact that United didn't invest in what would be a proper centre-forward – that Ten Hag needed in January – because they didn't have the money.
Neville says Manchester Utd let Erik ten Hag down by not backing him in the January transfer window, while Jamie Redknapp believes Weghorst should not be leading the club's front-line

"But [these stats are] going to be quite provocative – but there's no meaning behind it. However, this is the reason why Weghorst continues to play and why Cristiano Ronaldo is no longer at the club.
"[Looking at] Weghorst's 19 starts at the club versus Ronaldo's last 19 starts: with Weghorst, there have been 12 wins, four draws and three defeats. He's only scored two goals – but the team has scored 37 goals.
"If you look at Ronaldo, they won three fewer games and lost four more. Ronaldo scored 11 goals – but, the team scored 14 fewer goals. They are massive differences.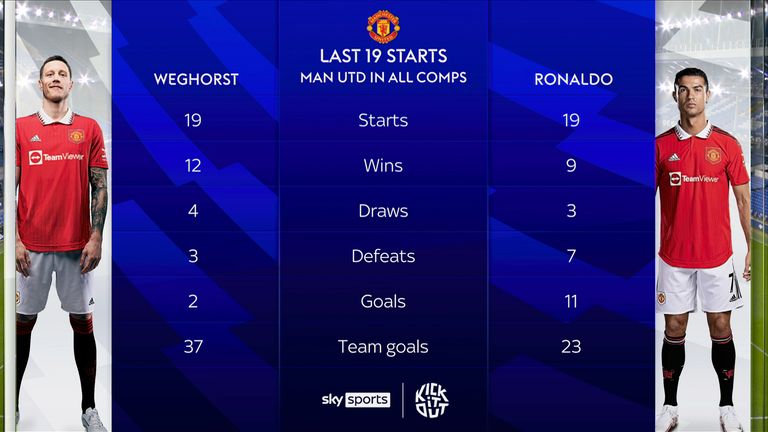 "It's the strangeness, the oddities of football, that you can have a player in the team who quite clearly isn't good enough to be a Manchester United centre-forward but has actually brought more profit to the team overall, in terms of wins, fewer defeats and more goals overall.
"That table shows you what Ten Hag will point towards when he's thinking about why he plays Weghorst.
"I believe Ronaldo is the greatest player of all time. This is not a criticism. Ultimately, the reason why it wasn't working [with Ronaldo] towards the end and Ten Hag was leaving Ronaldo out – and things became fractured – it's quite clear, when you look at those stats.
"Weghorst, to be fair, is not fit to lace Ronaldo's boots. He shouldn't even be mentioned in the same sentence. But those are stark statistics when you look at them, across the same periods of time, playing with the same players, same team-mates.
"Weghorst, against Newcastle, was really poor. I don't want to over-emphasise it because I don't think he should be [at the club], but the fact of the matter is, he is there and the reason he plays every single game under Ten Hag is because of those stats."
Jamie Carragher quizzed Neville on who he would start – if both players were at the club and available for selection. "Personally, I don't think either of them should be playing centre-forward at Manchester United at this moment in time," replied Neville, after a brief pause.
"I would have liked there to be a new signing, who was basically a brilliant centre-forward. Ronaldo, is now playing in Saudi Arabia. It wasn't working at the end. He's left.
"I don't know who I'd pick if they were both [at Manchester United] now. You'd move it from game to game. Some games I'd pick Weghorst, some games I'd pick Ronaldo. If I was playing at home, I'd play Ronaldo. Away from home, I'd probably pick Weghorst."
Does Weghorst contribution go under the radar?
Sky Sports' Ben Grounds
Standing at 1.97 metres, the common misconception is that Wout Weghorst lacks mobility, but the Dutchman runs himself into the ground.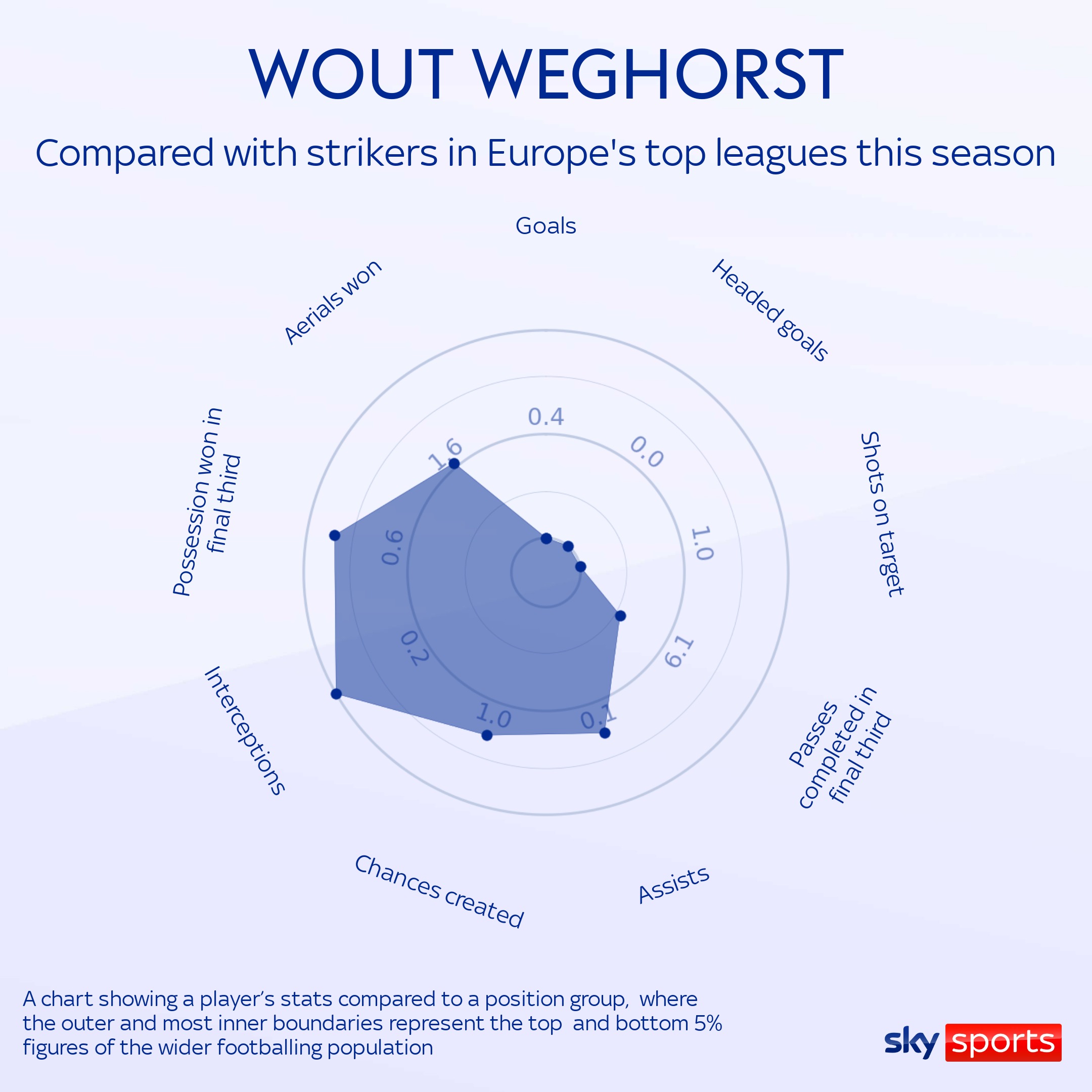 In the absence of Christian Eriksen, it is often Weghorst doing the role of two men. Weghorst has started 19 games in all competitions for United, in which he has scored only twice – but it was never about the goals.
Signed by Burnley from Wolfsburg for £12m just over a year ago, he was then tasked with scoring the goals to keep them in the top flight. But a tally of two in 20 appearances led to him being loaned out to Besiktas last summer.
His return of eight goals in 16 league games in Turkey earned him a place at the World Cup with the Netherlands, but Ten Hag had already identified how the wider attributes of the maligned striker would benefit his team as a collective.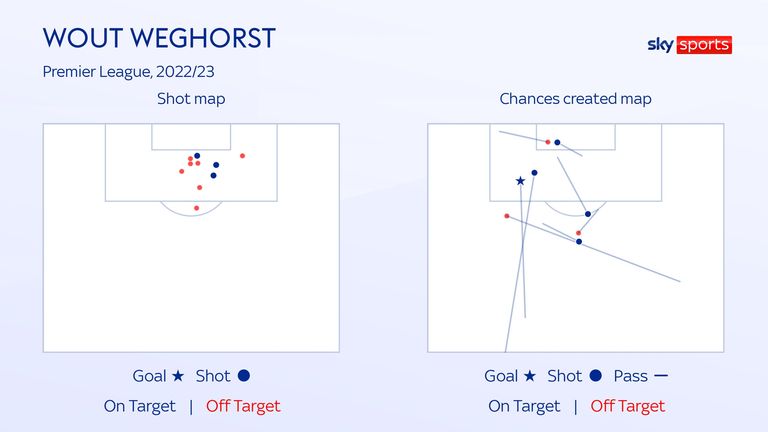 Even during his perceived difficult spell at Burnley, Weghorst managed 48.7 presses per 90 minutes – more than any other player in the entire division. Defending from the front is precisely what he brings.
United are covering the striker's wages but have no option or obligation to buy a player, who is already showing he can suit Ten Hag's pressing style.
At Barcelona, Weghorst would often be found in midfield alongside Fred and Casemiro, even defending his own box as he was stationed suitably in the final minute of stoppage-time.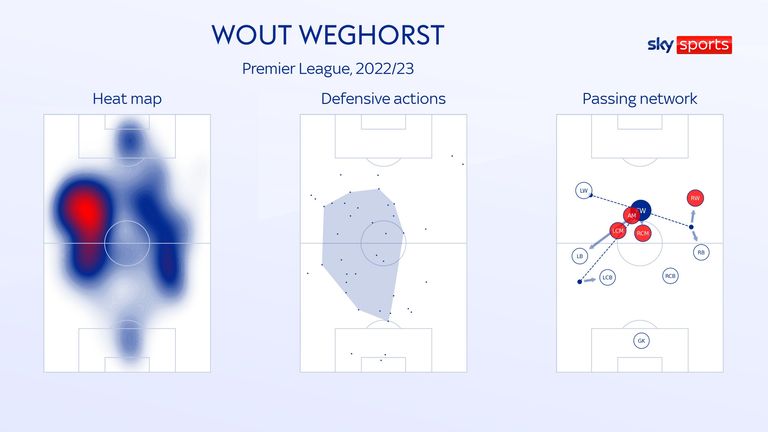 In the 2-0 victory at Leeds, it was Weghorst who dropped deep – Kane-like – to feed Alejandro Garnacho as he scampered away to seal the win. Within games, Weghorst has been alternating between being a conventional target man, seen when goalkeeper David de Gea has opted to play long towards his aerial strength.
"It's more tactical but also to get some other players in good positions in the whole front three; Bruno [Fernandes], Rashy [Rashford] and Jadon [Sancho]," the United boss explained after the Barcelona game. "But also to get a good press on and I think the plan worked well.
"Other players can score: Bruno, Jadon, they can score. Wout of course can score as well and they will score. But in the end, it doesn't matter who scores but in such a game, when you create five or seven 100 per cent chances you have to finish that more, it's quite clear."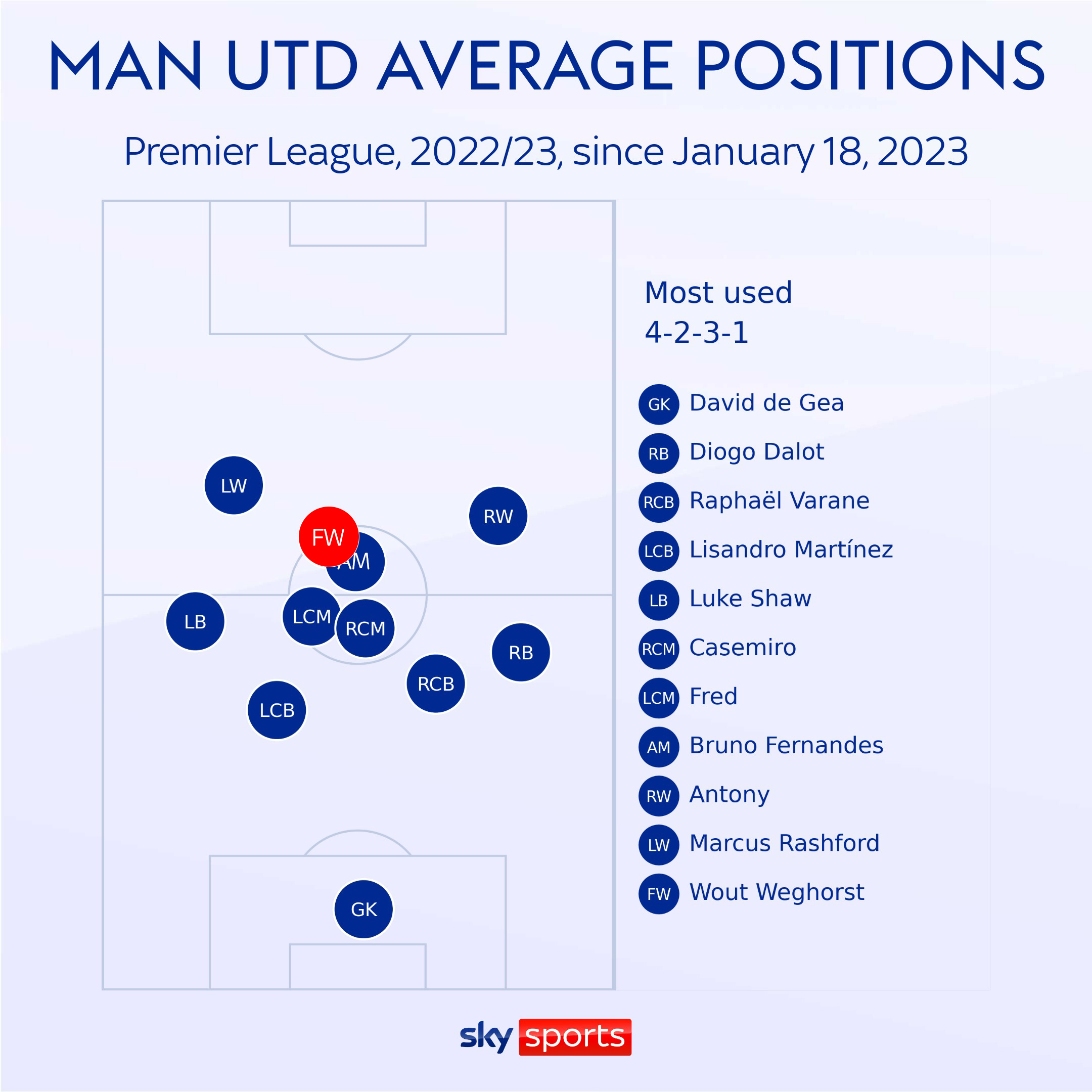 A lot has been made of a liberated Rashford only now fully reaching his potential following the departure of Cristiano Ronaldo, and the Englishman's form has been in stark contrast to what it was prior to the World Cup.
He has 19 goals in his last 26 games and has already surpassed his season-best tally of 22 from 2019/20. The lingering concern is what will happen to United's season if the forward sustains an injury; their next highest scorer is Fernandes on 10.
But while the exploits of Rashford have rightfully drawn much attention, Weghorst's role in allowing him to shine has proven every bit as important as the sale of the man he replaced.
Weghorst said it was a great feeling to join Manchester United

Provided Rashford remains fit, there is plenty of logic in Ten Hag using his conventional No 9 more as a No 10, dropping deep to link up the play and allowing his red arrows the space to dart in behind.
Asked about his decision to play Weghorst at 10 at the Camp Nou – and whether his plan worked – Ten Hag told BT Sport: "I think so. But it's not only about Wout, although he did well in that position and I know he can be [a number 10].
"But it gives us a lot of variation but also I want to bring Jadon [Sancho] and Bruno [Fernandes] coming into half spaces, getting them on the ball and make runs from deep.
Weghorst recalls the moment he learnt that Manchester United wanted to sign him and promised to 'give my all' for the club

"With the full-backs joining in, I think we had a lot of variation and we had a lot of opportunities and we should have won this game."
It was initially felt that Weghorst would act as an impact substitute, in the same way he was effectively used during the Netherlands' stunning comeback against Argentina before losing on penalties in Qatar.
Dutch football expert Marcel van der Kraan told Sky Sports in January: "He's had a bit of an unusual career but what he always brings is a massive amount of professionalism.
"What all of his coaches have said, what all of his colleagues have said and a real amount of physique. He's one of the strongest, he's one of the biggest. I think in England they called him 'the dinosaur' when he turned up at Burnley.
"Is he prehistoric? No, he's a man who can add something when they really need him in the last 20 or 25 minutes, when they need a different style of play and Ten Hag has been short of real physique. That's why he wanted his man, who also did not cost too much."
Weghorst is first to the rebound to score his first goal for Manchester United and put his side 2-0 up against Nottingham Forest

"I am very pleased with him, he is doing extremely well," added Ten Hag. "He plays his role very well. We've scored more as a team since he arrived. He knows his role very well and he fills it in very well."
To date, Weghorst's profligate finishing has not fazed the player, nor his manager. Despite being very deep, his role to hold is very clear, only carrying the ball upfield 8m per game on average.
Ultimately, competing in the Europa League and sealing a Champions League place with Weghorst in the side is not where United want to be, but for the now, this unlikely marriage is delivering during the rebuild.